What is Dinosaur Tycoon?
Are you bored with the traditional ocean world that today's fish shooting games bring? If the answer is yes, let Dinosaur Tycoon help you enter a more exciting world with a unique prehistoric space and unique dinosaur system.
When you log in to this fishing slot game, You will transform into brave warriors to destroy the dinosaurs on a mighty tank with a very new design.
The content of the game Tycoon Dinosaur is still asking the user to defeat as many creatures as possible. But with the way it is designed and brings users to a new world, this Dinosaur Tycoon game has been a resounding success since its first launch.
The world of tyrannosaurs is here waiting for you to explore, and are you ready to learn more about it?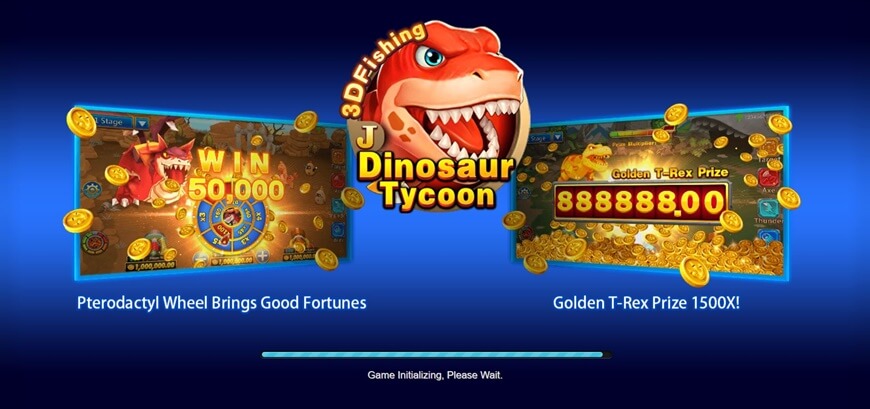 How to play shooting fish Dinosaur Tycoon?
Players can choose one of 3 levels from easy to challenging. Depending on the level, a certain number of dinosaurs will appear.
Your job is to choose the correct ammunition to kill as much as possible, each time you shoot down, Your bullets are lost, and the dinosaur you kill will bring back bonus points.
To be able to "break-even" or "make a profit," players need to consider choosing the correct ammunition and watch the right moment when the dinosaur has just appeared on the screen to start shooting.
While shooting, you can also use special features set up in the game to assist you. Each fish shooting game will have a specific period. After the end of the game, the player can receive a reward in his fish shooting game wallet.
In addition, if you want to review the leaderboard and in-game information, such as the name and score of each type of dinosaur, it will be in the history section.
This game also has a player ranking feature. Those in the top players with the highest achievements will receive rewards commensurate with their talent.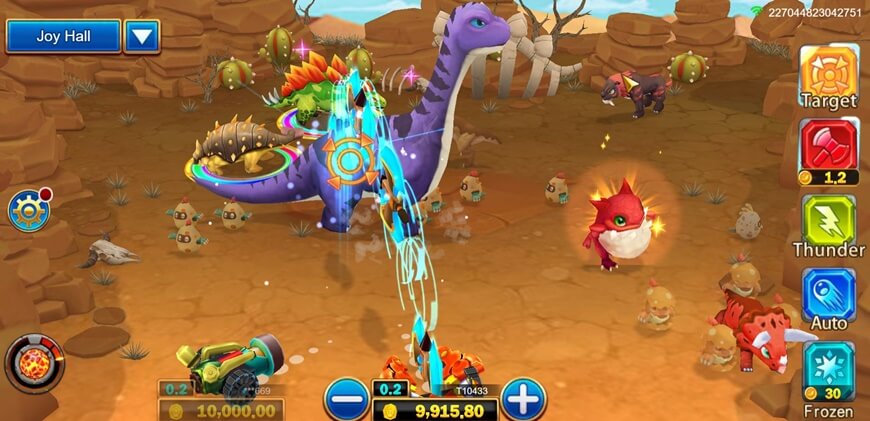 Learn the rules of shooting fish Dinosaur Tycoon
You have to spend money to buy bullets by shooting fish, so the first thing you need to do is to deposit money into your account to buy guns when starting the game.
Many types of bullets will appear during the game. You need to buy for the most effective dinosaur hunting trip.
There are two levels for players to choose from Joy and Regal. The level of fun is true to its name, you will only play for fun, very simple, and the dinosaurs here are also very easy to shoot down.
As for the regal level, it is more advanced, so players will have to know how to calculate and master some tips to become the wisest and most talented fisherman.
Every time unique dinosaurs appear, players need to pay attention and quickly change ammunition to shoot as many bullets to damage that child as much as possible because as long as they are damaged, you will get bonus points.
In this game, all dinosaurs, large or small, have a certain percentage. Players can look up this information in the support section, or after the game is over, go to History to look it up.
Pay attention to functional dinosaurs and unique features to increase your chances of getting more bonus points.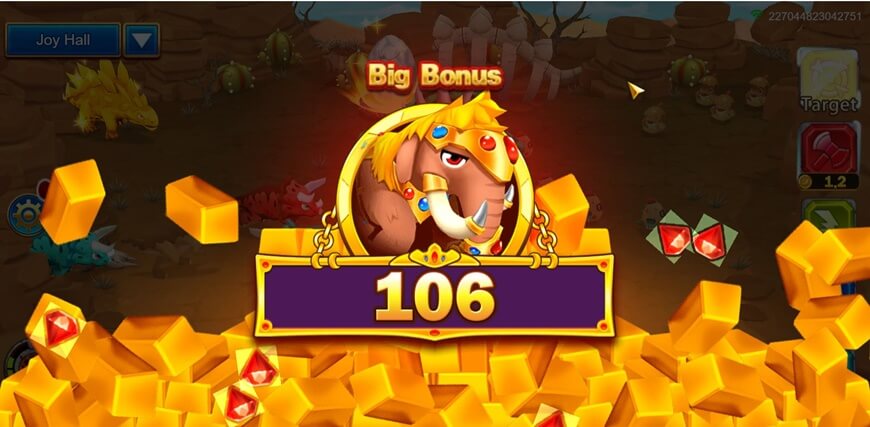 Toad Bomb x60 – x80: The toad bomb will explode in place after being shot down, and you can destroy nearby small dinosaurs
Dragon Thief x40 – x120: if you shoot down this one, you will randomly receive 1 of 3 weapons: Attack Bullet, Giant Skeleton, and Fire Dragon.
Pterosaur x80 – x100: You immediately throw the grenade out after shooting down this flying dinosaur. There will be a chance to kill many relics in the explosion range.
Sledgehammer: using a sledgehammer will deduct the bet x6—deal consequential damage with the hammer's power.
Thunderstorm: after using this function, bet minus x15. This function, when activated, will release Continuous Low Power – continuous thunder and is 100% sure to destroy 2 to 5 dinosaurs nearby.
Destruction Meteor: to use this skill, you need to accumulate energy, calculated from the number of points that the player has. When total power is activated and carries a Destruction Meteor attack, the damage will decrease in between interfaces.
Details of the Dinosaur Tycoon game reward table
U U Long: x2
Scattering Dragon: x3
Eggshell length: x4
Lightning Dragon: x5
Guan Long: x6
Male dragon triangle: x8
Female three dragons: x9
Tiger Chain Sword: x10
Tiger Chain Needle: x50
Golden Dragon: x55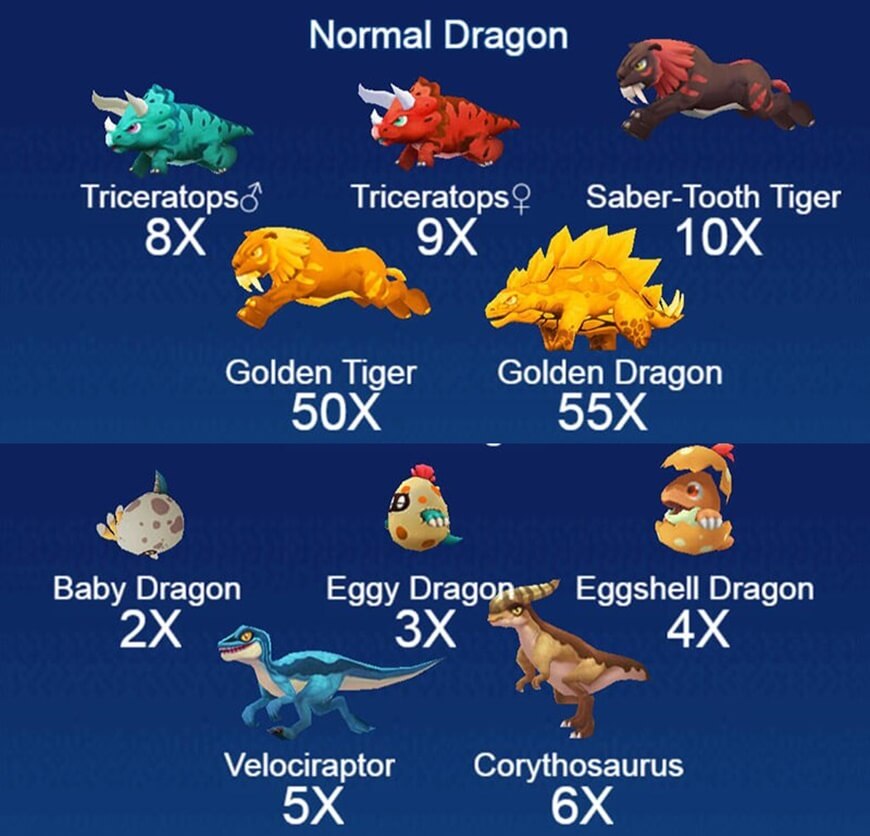 Dinosaur Tycoon High Bonus Rate Bosses
Features of medium-sized dragons: with these, players who shoot down will have a chance to get a multiplier of the base bonus and also a chance to get a bonus x7 times. Conversion rate x20 – x25, Dragon Sword x30 – x35, Dimension Dragon x40 – x45, double bonus 7: x140 – x175, x210 – x245, x280 – x315.
Flying dragon turntable: When the player shoots the dinosaur with the wheel, there is a chance to spin the wheel of fortune. The player sets the time when the hand stops spinning manually. The index on the outer ring multiplied by the inner ring where the needle stops will be your bonus. The top prize is x500.
Golden Mammoth – Jackpot Bonus: When you see the Golden Mammoth appear on the system and fortunately destroy it, you will be offered a bet to participate in the lucky spin.
Depending on the bet level you previously selected, the bonus percentage will be awarded to you randomly.
Therefore, the amount of bonus that you get in this feature is completely dependent on your bet amount. The more bets, the higher the reward.
Golden Conqueror: when the player hits this one, it will activate the energy accumulation tree. This energy tree will shock the gold chest, and the player will receive bonus points from the Golden King. Dragon. The gold chest bonus will be multiplied by the "bonus multiplier," up to a maximum of x1500.
Special dinosaur eggs x35: when you shoot down the eggs, it will detonate all dinosaurs simultaneously, increasing the chance of receiving rewards by 20%.
Immortal Dragon King: Thunder x60 – x150, Conqueror dragon x80 – x200, and Flying Dragon King x135 – x500.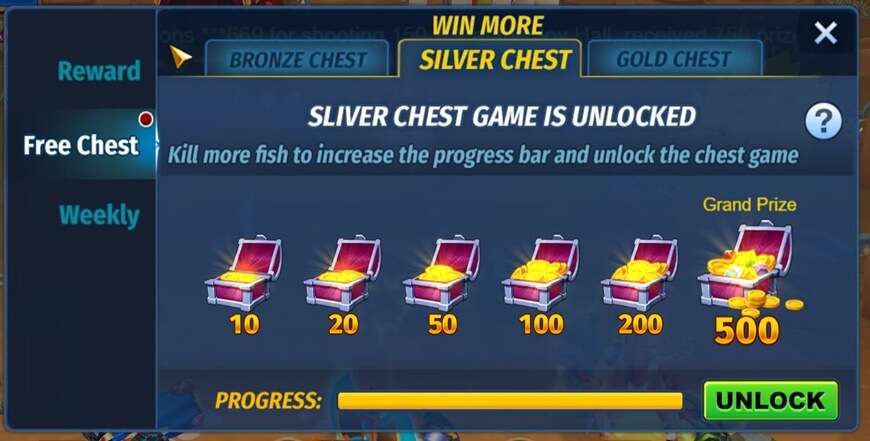 Good tips when playing shooting fish Dinosaur Tycoon
Choose the right ammo. Right in the part of your gun will have a number showing the damage of bullets. Players need to choose the right type of ammunition for the good dinosaurs. They will have the opportunity to defeat them and get bonus points.
Should shoot as soon as the dinosaurs start to appear on the left side of the screen, so the time to absorb the bullets will be longer, and it will be easier to get the bonus points for all of them successfully.
When the screen displays a message that there is a unique species, you should prepare a powerful bullet in advance and start shooting as soon as it appears in the left corner of the screen.
Should pay attention to shooting particular dinosaurs carrying bombs, grenades, and thunder because shooting it will save ammo and still kill other children nearby to get rewards.
Priority should be given to selecting special features to make the gameplay more convenient, but only in exceptional cases should it not be abused. It will be costly and wasteful.
Players should prepare an appropriate amount of money to play the shooting fish game Dnoa Tycoon. If you win, withdraw cash or continue playing. If you lose, you should stop having the whole fun.