A Guide to Responsible Gambling
For gambling to be what it is, fun for everyone, and completely harmless, you need to make some decisions to control your actions, such as:
Set a win and lose bet limit before playing and follow the limitations set out initially
Keep in mind that this is a game from which you will master and control yourself.
Only play with your money; do not borrow money from other people to gamble.
What is the maximum playing time per day?
When you feel tired, your mind is not clear. Take time to rest.
Balance gambling with other activities, avoid the case of passion for cards, and then neglect work, family, relatives, etc.
When you're not in a good mood, stressed, sad, drunk, etc., you shouldn't play.
Use your money for entertainment purposes to play cards, don't use all your daily spending money to burn red and black passion.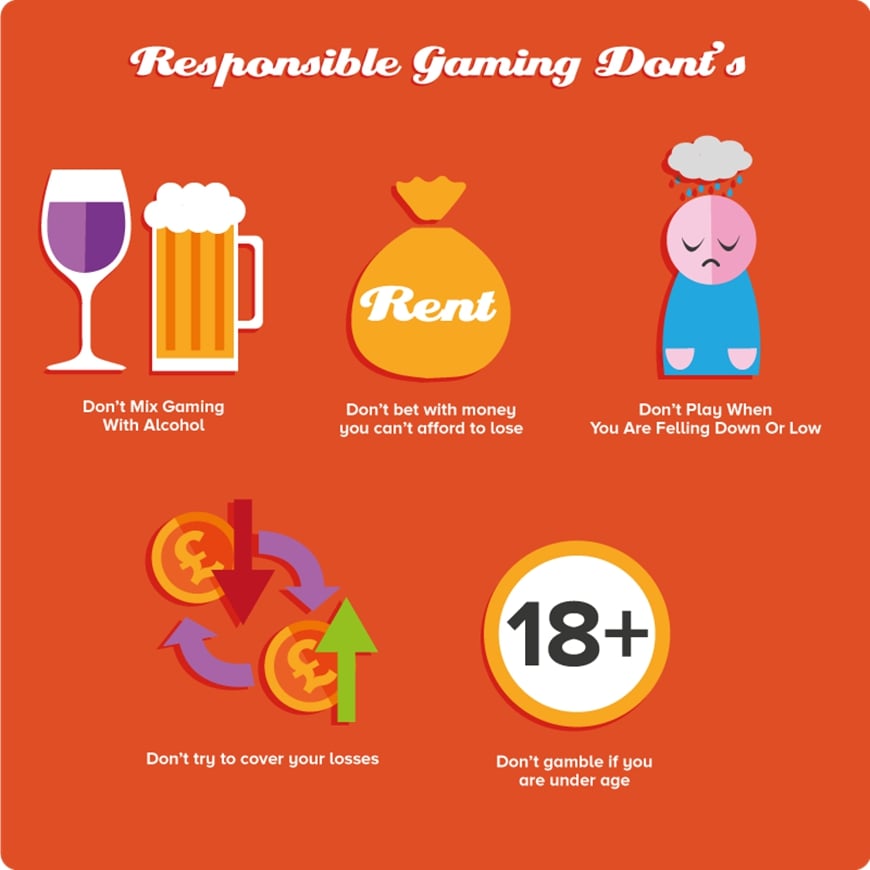 Ask yourself questions when you are wondering, worried about whether gambling will affect your life and those around you:
How will others criticize or look at you when playing gambling?
The money you spend on gambling, have you ever had to lie about it?
When sad, tired, depressed, do you think about gambling?
Have you gambled for a long time?
Do you neglect your work, school and spend all your time playing cards?
If your life has many difficulties and hardships, do you play cards to escape that bad feeling?
When playing cards, do you feel you are losing time, fun with family and friends? When you've lost it, do you still want to get it back?
Have you ever felt depressed or wanted to commit suicide because of the money spent on gambling.
Have you ever lied, stolen, or borrowed money just to satisfy your passion for gambling or repay the money you lost before?
When you lose gambling, do you feel sad, lost, and want to gamble again as soon as possible?
Some action to take
(1) Close account
Gambling has ceased to be a pleasure for some customers when they want to win rather than simply enjoy. The best way to minimize your gambling habits is to close your account.
You can rest assured that it is not locked forever, but it will be opened after 24 hours or when there is a written request to open it. You can contact customer service for support and more information about this feature.
(2) Self-ban gambling
If you want to limit yourself from participating in recreational gambling games, you can refer to the self-ban gambling feature for a period from 24 hours to 3 months. There are self-ban gambling options such as:
Self-ban gambling for a specified time: you will choose a specific time. After the selected time, the account will be reopened, and you can continue to play as usual.
Self-exclusion from gambling for an indefinite period: the account will not be automatically reopened or reversed automatically. Once a decision is made to continue gambling, the waiting time for the decision will be 24 hours.
Permanent self-exclusion from gambling: the account will be permanently closed and will be reopened within a 7 day decision period if you contact the responsible gambling department.
(3) Deposit limit
You will set a deposit limit for yourself every week, every day of every month, to suit your needs. This helps you to control the maximum amount of deposit and expenses, and at the same time, prevent overcharging from affecting other living expenses.
(4) Bet loss limit
Setting a loss limit will help you control the amount of money left in your pocket for a certain period of time to limit the situation of all hands for players.
(5) Session limit
This is also an effective method to help you limit your desire for these games. You will control the maximum amount of time that you should play in a day so as not to affect work, family, etc.
The most practical thing is to prevent you from playing for longer than the time that was initially mentioned.
(6) Reality check
A reality check will help you control the amount of time you spend gambling. A pop-up window will prompt you to decide whether to continue playing or stop when the time is up.
(7) Protection of minors
Nowadays, the internet is so popular that anyone can access it easily. Players should use filtering software to prevent children from accessing inappropriate online material to ensure children's online safety.
Because underage children when gambling is illegal, not to mention a debt that they accidentally incur.
You need to make sure to take the following steps to protect your child:
When computers, phones, etc., are running casino software, it is necessary to ensure the safety of someone watching, monitoring, etc.
Use a password to protect the account.
Do not allow people under 18 to participate in gambling activities.
Bank account numbers and credit cards used should be kept discreetly, out of reach of children.
Remember or write passwords on paper, not on computers.
Set appropriate time for children to participate online, and use software to prevent unauthorized access to documents.
What will we do for you?
Responsibility to the players is a leading factor in the success of Online Casino Singapore in the betting market. All of our services are built on the foundation of respecting the players while providing the players with the best value. We promptly answer any questions, complaints, or requests for advice from players.
Online Casino Singapore will provide a function that allows members to remove themselves from their accounts within a certain period of time. This time period will be notified by us when you register for an account.
Once this change is applied to an account for a period of time, the account will not be reopened for any reason until the period expires. We will do everything we can to prevent new accounts from opening during this time.
If you would like to use this function or would like more information, please contact us for assistance. In some cases, you may also ask us to temporarily or permanently block your account.
Coming to OCS, you are completely assured of the policies that we are building and bringing to the betting community in Singapore and the world. All commitments are made by our bookmaker in a standard way.
👉Gambling Addiction & Problem Gambling: https://www.sgonline.casino/gambling-addiction-what-you-should-know/