Demo Fishing God
What is Fishing God?
Fishing God is also understood in a unique sense: the God of Fishing. This is considered to be the most popular type of game-changer.
When participating in Fishing God, you will have the opportunity to try many levels of shooting fish. In addition, you also have more moments of great entertainment that the game brings.
Fishing God is designed with stunning graphics. Besides, the sound is lively and suitable for each game level. A beautiful, classy design is ideal for all players.
Coming to this game, you will also be familiar with many types of professional shooting guns. As your level is higher, your strength also increases with each level.
You will be involved in the battle to find and kill fish in the ocean. The more fish you kill, the bigger your gold coins. In particular, at the end of each game, you need to kill the fish god.
That way, you can go through the table and get the most considerable amount of gold possible.
In addition, when playing Fishing God, you do not have to worry about network lag or shock. Because this game always provides the best servers for players to experience.
Therefore, playing Fishing God is an experience worth trying. Let's take up the challenge of discovering and conquering all the levels in this game.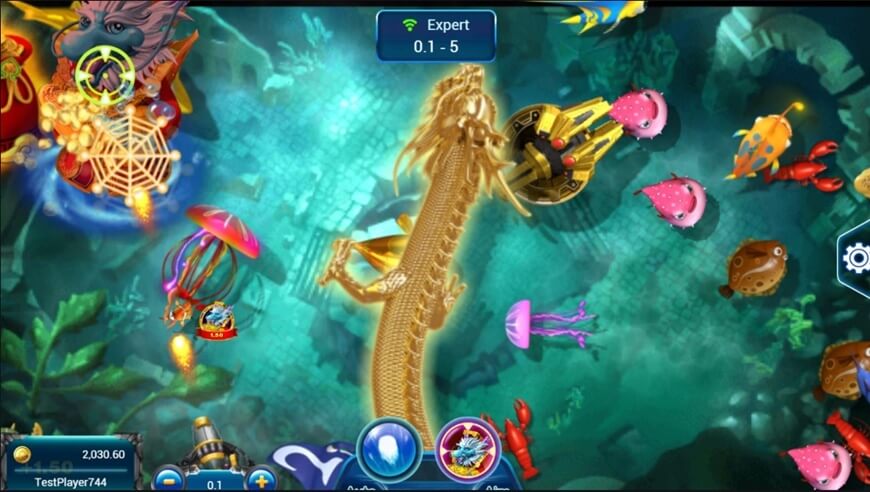 Outstanding features in Fishing God
The coin shooting game interface is beautifully designed with sharp images and vivid sound. Smooth response speed without lag.
There are promotions to give coins from the publisher, and you can play comfortably without worrying about running out of cash,
There is a diverse marine life system and modern guns.
There are top racing events on the leaderboard with attractive gifts.
Personal information security system – Safety – Transparency
Many events take place regularly daily.
Attractive exchange rate, just a few seconds, you will receive your reward.
Customer care system, dedicated support, answering all questions 24/7
Rules in the game Fishing God
(1) Fishing god game levels
Coming to Fishing God, you will discover all kinds of sea animals when you dip your feet into the pool of this fishing slot. Your task is to shoot down any fish to score an instant prize. Every cannon explosion is associated with the cost of your bet.
This game has three different game levels, from low to high. First, you need to choose the difficulty level of the game, which sets your bet limit:
Junior (Subordinate): 0.01 to 1 credit
Godlike: 5 to 10 credits.
In the game, there are many different types of symbols.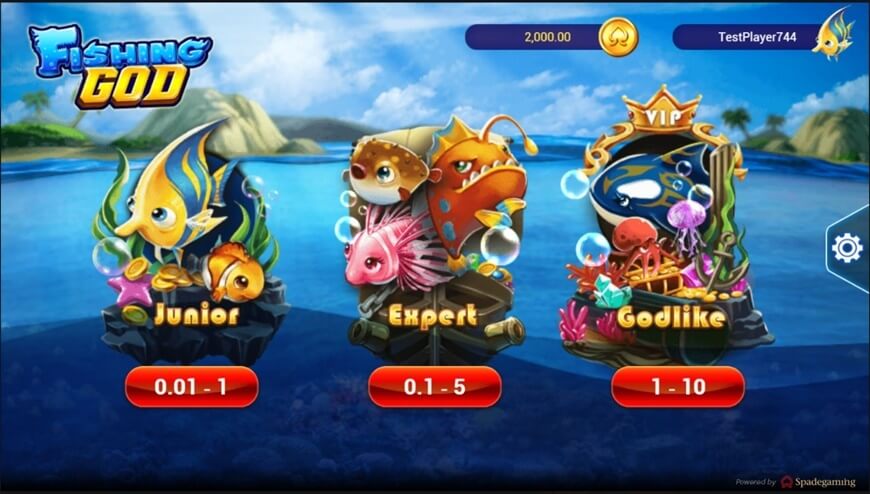 (2) Fishes in Fishing God
The stork fish can pay
Fishing God includes 25 sea creatures: flying fish, clownfish, swordfish, turtles, jellyfish, whales, dragons, and more. The bonus levels range from x2 to x888.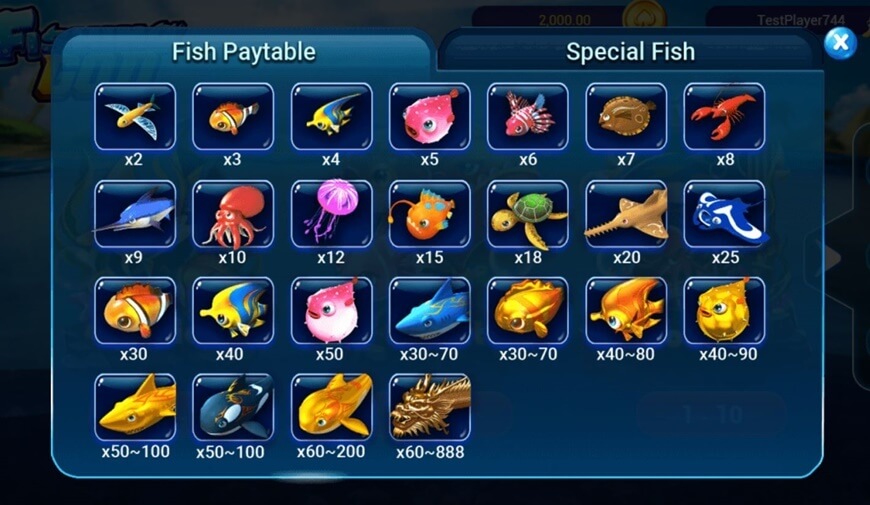 Particular fish (boss)
There are eight types with different bonuses and effects. Specifically:
Laser crab: bonus 120 times. When catching fish, the player will receive extra wide-range cannons that fire at fish that go in a straight direction.
Drill Crab: bonus x120 times and the person who shoots will receive an extra drill with the ability to shoot fish swimming across the lake until it disappears.
Crab Bomb: bonus x120 times. When caught, the bomb on his back will explode and catch fish nearby.
Crab Cake: give up to 300 times the bonus.
Jellyfish: give x120 times bonus. When caught, it will generate electricity to shoot at surrounding fish randomly.
Firestorm gives 60-100 ammo in quick-fire mode and ends when it runs out of ammo.
Lucky bag of gold: receive rewards up to 200 times. You can choose one lucky bag from the treasure chest when you catch the gold pack.
Dragon King's Treasure: This boss requires a combination of players to catch and give rewards x10 to x300 times.
If the system is interrupted, the bonus will be automatically adjusted to 30 times. And the lucky bag will be selected in any position.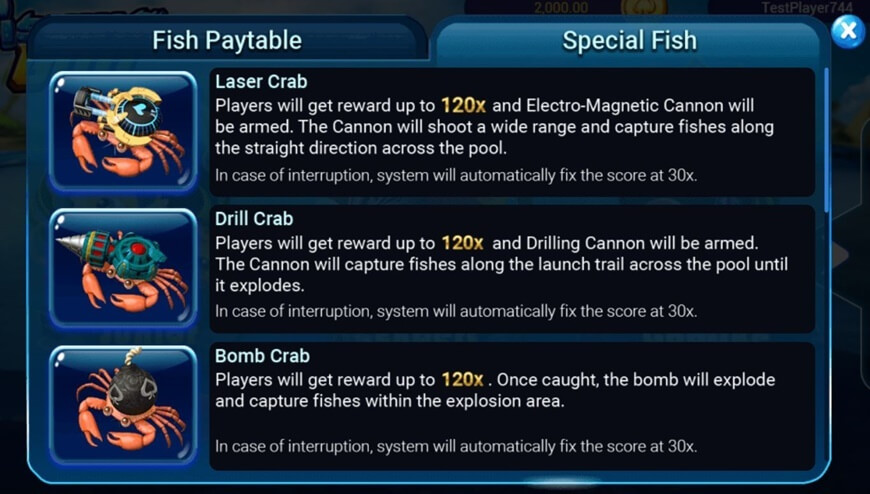 How to play Fishing God
Like shooting average fish, Fishing God also has the same game rules. When starting to participate, players must use real money, buy ammo and then choose the lobby level.
Then use the gun provided in the area and kill the fish. Kill more fish, and gold get more coins.
In this shooting game, each different type of fish will correspond to a reward level. The bigger the fish, the higher you must pay.
When the player has a certain amount of coins in the game, they can be exchanged to buy more weapons or exchanged for cash, withdrawing to their account.
Before starting to participate, there will also be three levels for players such as:
Undertaker: At this level, new players can participate in betting. The bet limit for this level is from 10 to 500
Expert: This is considered an average level for those who have participated in shooting fish games with little experience. Players can bet on this level between 100 and 1000
Divine: This level is also for VIP players who can bet a lot and upgrade their level. For this level, the bet level will be between 1000 and 50000.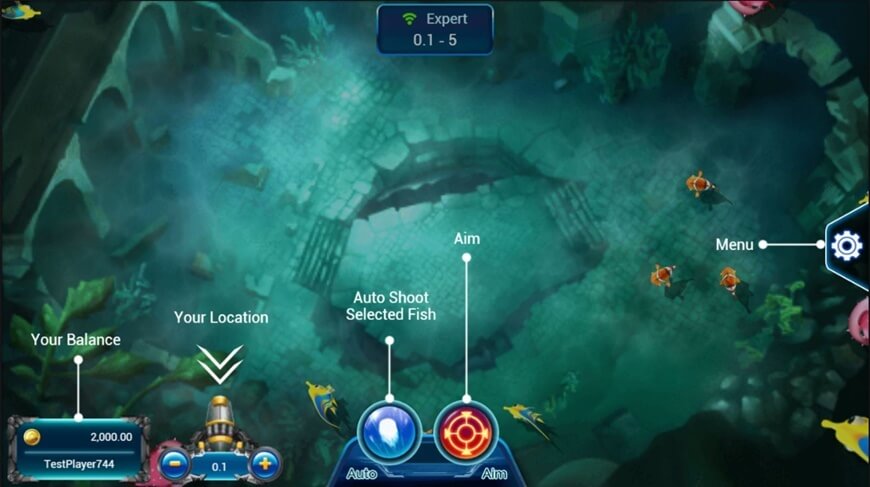 Tips to play Fishing God should not be missed.
When participating in Fishing God, everyone wants to collect a lot of fish. Because this means your gold is increased. Therefore, use the following tips. Indeed, you will get a lot of delicious big fish for yourself.
(1) Choose the correct type of fish
The small fish are the bait not to be missed; usually, the small fish will be worth small gold coins. However, these types of fish are straightforward to defeat.
Therefore, if you are new to Fishing God, focus on shooting small fish. In addition, if you use a gun with low ammo, you should not choose big fish.
Of course, now you only have a way to accumulate small fish to collect gold coins. Thus, you will quickly increase your level of play and guns.
(2) Shoot the fish in the head
Suppose you want to put your energy in to defeat the big fish to get more money. It would help to focus the gun to shoot at the fish head position. Thus, the fish will be easier to kill than if you hit the fish's body.
(3) Schools of small fish
You are shooting at schools of fish swimming around in front of you. This will increase the probability of hitting and dying fish much higher.
However, when catching fish, you should only choose not too expensive ammunition. Thus, your loss will not be much when you shoot fish continuously.
(4) Concentrate
When playing Fishing God, you also need to ensure the highest concentration. Besides, you also do not let external factors affect your psychology. Be focused, especially when you have to deal with big fish.
(5) Choose fish with a high score to shoot
You should only apply this shooting method when you have a good gun. Thus, the chance of killing big fish to increase the new bonus is high.
Usually, you will have to choose the highest ammo to kill the angelfish. However, you still have to remember to focus on the fish's head. Kill the big fish, and your score is not tiny.