As a player of shooting fish online, you must have heard of the game "Fishing War," right? If not, let's find out what this game is all about, okay? If considered in 2020, the Fishing War game will probably be the hottest fish shooting game of the year.
Either way, the shooting game of the publisher SpadeGaming has done a great job in bringing thrilling and realistic feelings for players!
Listening to this, surely you will be curious if we are talking too much about this game? Without leaving you to wonder anymore, let's discover it right away!.
Demo Fishing War
What is Fishing War?
Fishing War is a fish shooting game released by the famous SpadeGaming supplier in China in particular and Asia in general.
The story of this game is about pirates and their army that go out to sea, where the ocean is vast to search for treasures under the ocean.
Undersea treasures are protected by giant fish, and big Bosses must destroy these fish before the pirates can get the gold and treasure.
Fishing War is an entertaining online fish shooting game, giving players new experiences. This game will be suitable for players who love simplicity and entertainment, not requiring too much thinking.
It is said to be a non-stop action game that has diverse modes and attractive bonus features.
Fishing War so that the player can choose any position on the screen to spread the net and can shoot at all grid points to collect as much gold. Almost every time the player throws the net, the player can hit the fish.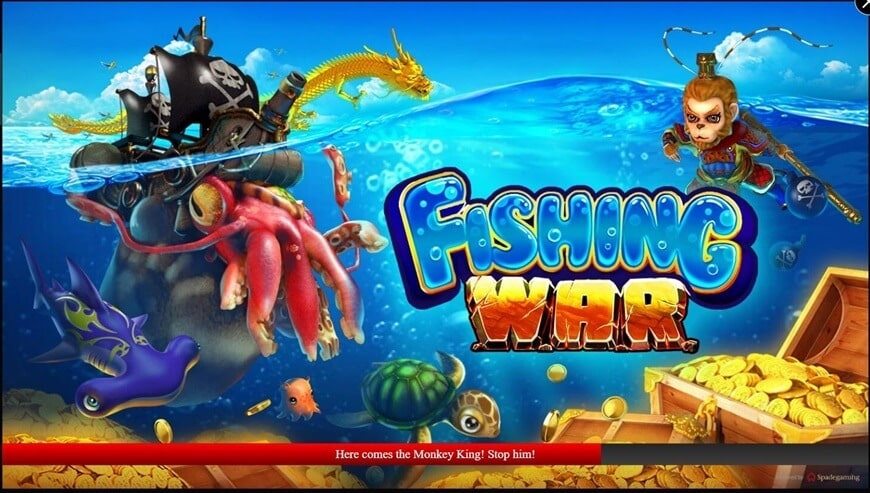 Fishing War game review
Set in the context of a fish-shooting pirate leading his army to the open sea and searching for treasures guarded by giant fish, Big Boss. The player's task is to destroy those fish to help the pirates get gold.
Powered by SpadeGaming, Fishing War is one of the top 5 shooting fish games today, with the ultimate gaming experience and sharp graphics that make you not miss.
Let's dive into this feverish game. Why is it so highly rated?
(1) Sharp and realistic graphics
The highlight that Fishing War players love is 3D graphics and vivid sound, helping players get the most unforgettable experience.
The ocean world and fiery battles are described perfectly.
(2) Exciting sound
Not only that, the lively sound system coordinates with the outside in a reasonable way to create an attractive rhythm to help Players will have a thrill in each match.
Players also do not feel bored like when playing other normal fish shooting games even if they sit and play for many hours.
(3) Unique Features
Here are the differences in the game Fishing War compared to the usual shooting game.
Double kick: It is also known as Double Shot. This is the unique feature of Fishing Wars.
When the player chooses Double Shot, the cannon will expand to have two barrels. Players will be able to shoot two bullets instead of one as before.
Besides, it also helps players choose to shoot at the same target to create dual effects or can shoot two targets at the same time.
With Double Shot, the player's chance of catching a big fish is doubled.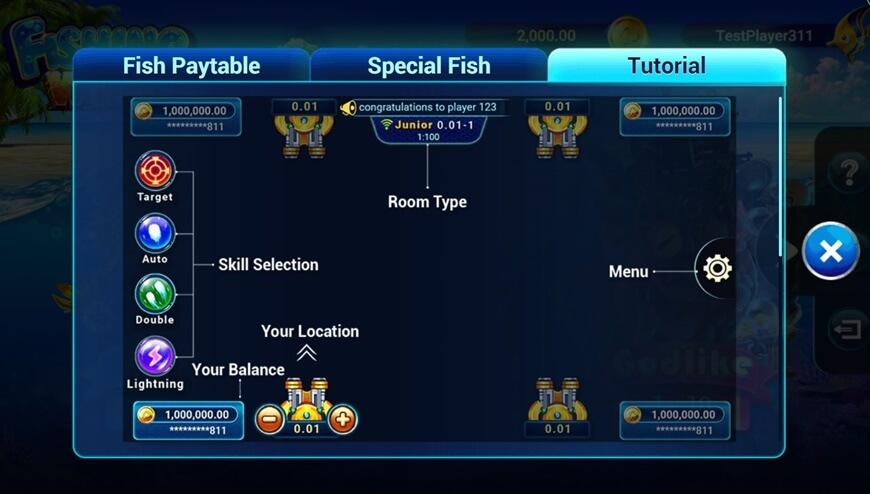 Lightning strike: This is another new feature of the Fishing War. Lightning Slash is the ultimate fish hunter's weapon.
Move the mouse pointer over your target. Then your target will burn to ashes.
Lightning Slash is the fastest and most efficient way to earn rewards in Fishing War.
This feature makes it possible for players to get bigger and bigger rewards with each of their attacks.
Instructions on how to play Fishing War
Fishing War is developed based on the casual shooting game for a new version.
Therefore, those who play the old version of the slot fish game still quickly grasp the rules of this game right from the first time.
Players only need to know the shooting modes and features of Fishing War to be able to pocket large bonuses.
Players need to choose different modes to start the game.
Ammo prices in these modes are also different. As follows:
Junior Mode (Amateur): Ammo costs 1, 5, 10, 20, 30, 40, 50, 60, 70, 80, 90 and 100.
Expert Mode: Ammo costs 10, 20, 30, 40, 50, 60, 70, 80, 90, 100, 200, 300, 400, 500, 600, 700, 800, 900, 1000.
Godlike mode (Divine): Ammo costs 100, 200, 300, 400, 500, 600, 700, 800, 900, to 10000.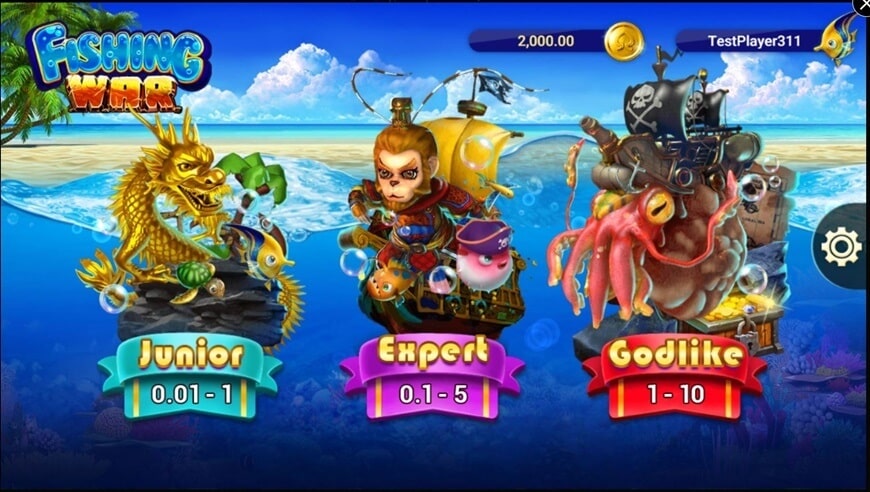 Players in each room have no more than 4 people. not more than 4 people. Players do not have to worry about too many players causing the bonus to be reduced.
Fishing War shooting mode
Players can optionally choose the type of cannon suitable for every kind of sea creature. You should consider which type of creature to invest/bet on accordingly.
In Fishing War, there are 21 species of sea creatures, but the following seven species have the highest value that a player can invest in.
However, there is a rule that the more giant and more beautiful the creature, the higher the value. The specific values ​​that players should invest in marine life are:
Players pay between 2x and 8x for seven sea creatures and low-value fish.
Players pay between 9x and 18x for seven sea creatures and fish of medium value.
The player pays 20x for Stingray.
Players pay between 20x and 40x for Gold Shark.
Players pay between 25x and 35x for Shark.
Players pay between 45x and 65x for the Golden Hammerhead Shark.
Players pay between 35x and 55x for Hammerhead Shark.
Players pay between 55x and 250x for King Crab.
Players pay between 55x and 450x for Jade Toad.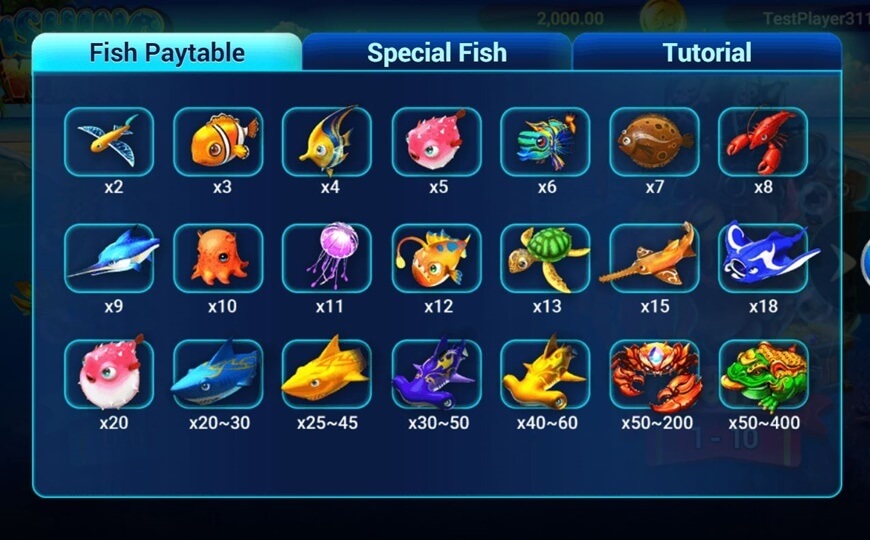 Main features in the game
In the game Fishing War, players will play unique bonus features. These features are implemented in each specific fish species and appear in particular stages.
Besides the bonuses, sea creatures will also cause some trouble for players.
Fishing War Latest Bonus Features:
Dragon King: is the elemental creature in Fishing War, the bonus level from x10 to x300 is the primary bonus. However, players can attack together to take it down and get random rewards.
Firestorm Cannon: This creature appears randomly and starts Firestorm mode. Activate this mode. Players will receive from 30 to 100 bullets. The method will last until all shots have been fired.
Thunder Hammer: this feature will provide you with anywhere from x30 to x100 in the prize. Furthermore, once acquired, the player will likely unleash lightning effects and fish randomly across the screen.
Azure Stone: this feature helps you get x10 main reward. But the opposite will freeze the sea and the fish in it and increase their pay for a short time.
Dragon Wheel: definitely worth the necessary bullets that players invest in shooting it down.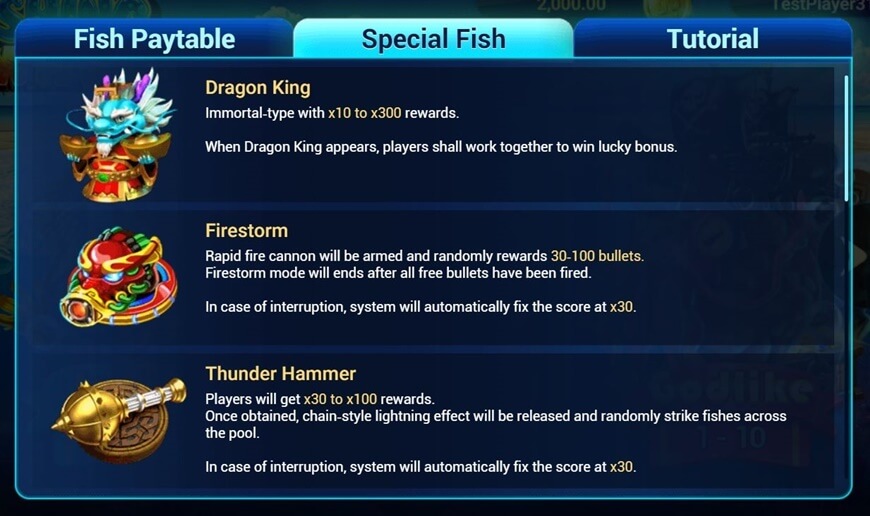 When the player does this, it will trigger the roulette game and give a random high reward, which can go up to x300. Awakened Dragon gives players the opportunity to increase their winnings exponentially.
When knocked down, it will explode at least twice. Any fish caught in the detonation area will pay you their bounty. Dragon Wheel also follows the same logic, but the payouts are usually much higher.
Pirate Ghost Ship: The last Special Creature in the Fishing War. Players will have to coordinate with other players to take it down. If you succeed, it will cause an earthquake, killing every fish in the sea. Getting all the payouts can earn you up to x888 prizes.